Dear friends, today, I share with you, a most wonderful experience. A delightful experience. An experience of a lifetime. Oh–I'm sorry, I should be more specific–an experience of a foodie's lifetime. Ok, glad we got that settled.
I had been thinking all week what my next post was going to be about. I had plenty to say about the dance world and my personal experience with stress and handling work, yatta yatta yatta, but I didn't really want to repeat the same mood from my last week's post! So today, as I was having the delicious sustainability dinner at Haffner, I realized that the answer was at the tip of my tongue. Not an idea, a philosophy or an inspirational epiphany, but rather, a piece of pizza. Not just any pizza:
"Caramel Apple Foccaianata"
(Don't you just get tingles from reading that name?? Now try it with an Italian accent. Oooooh now there goes the goosebumps!)
Mamma mia! Oh what a delight. But where can I begin? A multitude of sweet, salty, savory flavors swirling around in crunchy textures and melt-in-your-mouth-warm, creamy consistencies in a heavenly, harmonious blend. My taste buds have never loved me more. I think they literally asked me to marry them. Seriously.
Proposals aside, let me tell you how the fairy tale began. I was walking to Haffner with my dancer friends after our Modern dance class, and was excited because I knew it was the sustainability dinner, and I know Dining Services always makes a beautiful presentation on top of delicious food. I was just a bit uneasy because I didn't have much time to eat: it was 5:45 pm and I had Ballet rehearsal at 6:30 pm (and everyone knows it's not particularly the best thing to eat right before you have to exercise…). But there we were. I quickly filed to the back where the buffet was located to gather a plate of wonderful greens with an appetizing orange-watermelon-mint dressing, seasoned roasted vegetables, rich sweet potato, and tangy sun-dried-tomato-turkey loaf. But that was just the beginning of what would be an unforgettable flavorsome gastronomical ride.
After some delightful main-course feasting, I headed to the dessert table, for I had noticed when I first walked in, a little stranger that would soon become a great friend. I knew we would be close right from the start. Sometimes you just feel that connection. And when you know, you know…you know? Right beside the rich-chocolate-frosty cake lay the most wonderful creature created by man. An edible creature. (Don't worry, I am not into cannibalism!). I present to you, my new best friend: the "Caramel-Apple Foccaianata" or, dessert pizza. I quickly grabbed what I thought was a decent-sized piece with generous topping and soon headed to my table, ready to start my ritual.
With the first bite, all went silent in Haffner. I had no eyes, no ears for anything else but my baby, my CAF (Caramel-Apple-Foccaianata). Crispy buttery crust, oven-toasted apples bathed in a sweet cinnamon-brown sugar glaze, topped with a generous coat of sweet, luscious caramel and more cinnamon, and more brown sugar….and cinnamon. You can never have too much cinnamon. Since it was right out of the oven, it was the perfect temperature of warm. As soon as I bit into this gift of the universe, with that crunch, and the softness of the apple slowly melting on my tongue while the river of caramel rushed into all the remaining open spaces in my mouth, I knew I had surrendered.
CAF 1 x 0 Me.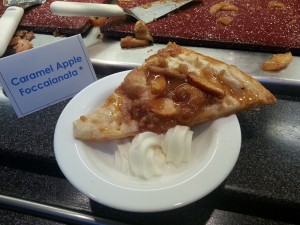 If I close my eyes now I can still remember that heavenly taste…I took my time with every bite, seeing how the different ingredients and different textures played differently in my mouth with every variation. It was a carnival of flavors! Every bite was paired with many "hmmm's" and "ahhh's".
Needless to say, this culinary masterpiece soon became a celebrity at Haffner. The crust was to the toppings as Angelina is to Brad, and no one could get over this satisfying Jolie-Pitt union. Poor chocolate cake! I am sure dessert option number 2 must have been amazing, but unfortunately it was overlooked by me (and I am sure, by others) as I was immersed in my caramel-apple-drizzled dream. Hmmm…(anybody drooling over there?)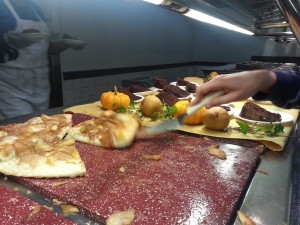 Well, you know what they say: "all good things must come to an end" (unfortunately). Before I knew it, my piece was gone and it was time to go to rehearsal. I unwillingly packed my things and started to head out of the dining hall…only to grab another small piece before I ran out, HAHA! Now who's the mastermind here…. 😀
Happy Friday to all, and may your weekend be filled with indulgence. Indeed.
Luci