Today has been such a beautiful day. I woke up with the warmth of the sun bathing me in a shower of rays of sunlight that were seeping through the shutters of my window. I stretched and yawned deliciously as I got out of bed, ready to start a fresh new day. What a wonderful feeling. I love the warmer seasons (*aham aham* Brazilian!) so I can definitely say these higher temperatures have been bringing upon some positive moods. I feel it not only with me, but with everyone around me. Faces lights up, blinding smiles flash so brightly on the street and laughter can be heard even miles away. All of this becomes even more extraordinary when we consider that only this Monday we received a good deal of snow. Even snowmen were made. Say what? I know.
I can't wait for the Cherry Blossoms to start, well, blossoming. It's one of the most beautiful times of the year. After they blossom, the beauty just keeps on coming when the flowers petals drop to the floor and carpets of pink lush overwhelm our sidewalks. Oh, it just takes my breath away! I wish we had such a thing as "Cherry Blossom BMC Week". It would make for such a great holiday. OH WE COULD MAKE IT A NEW TRADITION! By jove, that's it! We could have events all over campus with Cherry Blossoms as the theme, with games and races and trampolines (now who doesn't love a trampoline), encouraging people to get outside and play in our generous and welcoming mother nature. We would invite the community as well as students, faculty, staff and just everyone who has a role on this campus (ok maybe we can just leave out the geese–they get pretty territorial as it is) and everyone would get a chance to participate and get to know each other. Oh and hmm classes would be cancelled…..hehe 😀 (I mean, we get snow days, don't we? Why not get spring days too? Now that's just prejudice, people).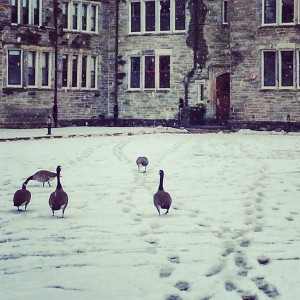 I hope our prospective and admitted students get a chance to see campus during this time. Or in the summer. Or when it's covered in mystical snow (ok I know I love my school but really, it does look beautiful no matter the forecast). Well, if you haaad to pick a season I would say Cherry Blossoming is a really special time to attend.  I think that's really what BMC stands for: Blossoming Mawr Cherries, in that students (aka the "Cherries") are blossoming into who they want to become throughout their four years here with the help of the education we receive and just everything that this amazing institution has to offer. I was reading the other day how we just welcomed the Class of 2017. How crazy! I can't believe this is happening. I feel so old, which is ridiculous! I just can't believe I have only one month left of classes in my undergraduate career, and then two weeks later I'll be attending the ceremony that will be officially terminating my time here, and it all comes with  a piece of paper that has my name on it and a title that says : "DIPLOMA". Diploma. Diploma. Diploma diploma diploma. And there you have it, my Bryn Mawr experience goes finito.
I can't help but already have feelings of nostalgia. I am ready to start my new life as a graduate and start living and working in the real world, trying to apply everything I've been taught at the Mawr (but never ceasing to keep learning), and carve out the path that has been set by this place which has become home for the past 4 years and which will someday be an important reason why my dreams will come true. And the most amazing thing is, even in a time of doubt and  worry which is preparing for post-grad life, I am most certain that this institution will have taken me to where I want to be one day. It will have been the start of everything. It's almost as if I had a glimpse into the future and could trace everything back to here, where it all started.
I can at the least say that I am very blessed to have gone here. Now having to deal with visa and money issues, I can't help but realize how easy it is to take advantage of everything that has been offered to me over the past couple of years. Financial aid, permission to freely come in and out of the country with my student visa, a pick at any of the academic classes or dance classes I wanted to take, fun and enriching extra-curricular activities, opportunities to engage in and outside of campus, as well as the irreplaceable friendships that have grown and nurtured me in ways I can't even express.
So here is a word of advice for the Class of 2017: Come here. Cherish it. And never let go.  Welcome home, new Cherries.
Anassa kata!
Luci