Let me tell you about my weekend. My friends from dance and I went to New York City to perform a piece choreographed by my fellow friend and dancer Joie Waxler at the NYC Dance Arts Dance Festival 2013. She submitted her choreography to this Festival and it got accepted, which was really exciting.
It was such a fun weekend! We didn't do any work and just enjoyed being in the city, relaxing at our friend's place by watching silly YouTube videos such as Marcel the Shell, History of Rap with Jimmy Kimmel and Justin Timberlake (love those two) and the adventures of Sophia Grace and Rosie. Internet time was interspersed with eating, of course. And lots of it! Let me tell yah–being a dancer didn't stop us in this household of traditional Italians. There was no way out. And thank goodness for that! The deliciousness that spiked our taste buds went from sausage patty burgers from the Italian market to pumpkin-filled ravioli with cinnamon and pad thai with savory dumplings and curry noodles with duck. Oh, and I can't forget about the chocolate croissants, blueberry muffins, apple strudel and other mouth-watering baked goods they brought us for breakfast on Sunday. Ahhh this is the life!
We were also able to catch up on our favorite show (New Girl!!!) and revisit the life of a Mexican-American star who died so tragically, Selena. So basically, I think we can all agree that it was a pretty productive weekend (nodding heads).
But we didn't just stay inside. On Saturday I scheduled to meet up with a friend of mine from when I studied abroad in Paris last year, who goes to Sarah Lawrence College. She was really sweet and took the train to meet me in the city for a day of french food and picnicking in Central Park. We went to our favorite Parisian bakery, which just opened in New York: Maison Kayser (http://www.maison-kayser-usa.com/). Ohhhh it was Paris all over again! What a delight. We each had a pesto chicken sandwich with parmesan cheese on tomato ciabatta bread. I mean, really, do I need to say more? Actually, I do….dessert. We both shared  a brownie, crunchy on the outside, gooey on the inside, topped with pecans as well as a Paris Brest. This last one looks a bit like this (although the picture doesn't do it justice, of course):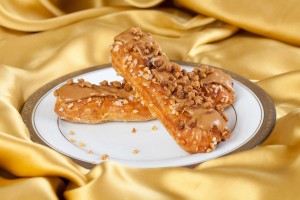 And here is a picture of the bakery: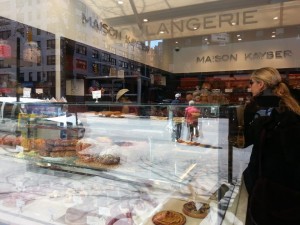 But I'm not here to talk about food (well, not anymore, at least) (I have to stop now or else I'll start attacking my fridge, which isn't such a good idea at midnight). I've already shared about my wonderful culinary adventures and how much hysterical fun I had with my friends, but I haven't yet talked about what happened when we took a little stroll on Sunday to the near-by vintage store. (Of course, you know that I couldn't miss talking about a special/philosophical experience). We took many pleasant strolls in nyc, soaking up the sun above us and keenly observing the good people of new york around us. These trips had us visit the Farmer's Market or go shopping, but this one led us to this very particular store, which had more than just what they were selling being a recollection from another time. The minute you walked through the door, the minute you were taken back to the universe of yesterdays. Any past time was brought back to you, no matter who you were or what precious vintage object you were admiring.  For me, I could not bear the overwhelming memory of my mom, pressing against my chest and making my eyes glisten with so much love. My mother is such an amazing woman. I wish I could express how wonderful she is! But words seem unfair to describe her, for they do not even come close to showing how special she is. I'm a bit biased, of course, but I know others feel the same way. I was looking at every little precious hand-painted pin and delicate bracelet and I remembered how much she is so careful with her things and is able to keep them for a lifetime. I was brought back to her bedroom in our house in Brazil, sitting on her bed, having her pull out her cute and tiny containers with a hundred other little bags inside (she's great at pulling off the Russian dolls thing) and unraveling one by one, she would reveal her affectionate treasures she has kept for a couple of decades.  I also thought of my grandma's house, with the embroidered carpets and paintings covering the walls, along with the antique furniture and the flower patterns everywhere you look. I was in another universe, and there was nothing that could stop it. Feelings, strong feelings of nostalgia and love came out of god knows where and just filled my whole core, lifting me off the ground and having me float across the store, as if in a dreamy daze. One of the most interesting things in this store was the corridor that led you from the street to the back of the store. I'm upset I didn't get a picture of it, but then again, it wouldn't have made it justice either. This corridor was earthy and rugged, and on the walls were a variety of unique mirrors–one different from the other. It was like a portal to the past, an Alice-in-Wonderland adventure, if you will. I can't explain the mesmerizing feeling of walking past these reflective doors, which opened up the gate to your fondest memories.  Just as this corridor was filled with an unknown time machine magic, the recent summer weather has stepped in a bit in the same way. I am so happy that we had 80 degree temperatures this week. But in a way, it made me so joyful that it made me sad, because it reminded me of home SO much. You have no idea how simple things such as the feeling of sun rays on your skin or the chirp of a bird can ignite the most fiery memories of your childhood. Talk about a seasonal time machine. Rio is my home, it's where I grew up, it's where my family is and where everybody speaks my language. It's a whole other universe that many (most) people don't understand and don't acknowledge is such a crucial part of my identity. And I don't know how to explain it to people either, because it can't really be said in words. It's so special that it can't be rationalized, it has to be felt. I can try to explain to you all how it is to have this double identity, but I can only do so much. All I can say is that, even though I feel so at home in the USA, and I feel as though I belong, there is and will always be a layer between myself and this north american persona of mine. It's as though when I speak my native language, Portuguese, that layer is stripped away and I am left with my bare self. No matter how many years I've been here or how much I speak English, even if it is thin as the width of a piece of paper, I always feel like I am putting on a layer that separates me from the outside. Our origins are so important, and we need to know them and acknowledge them so that we may never forget who we are. We are complex, multi-faceted and unique individuals, so we must embrace all of the different aspects that make us, well, us. Never forget that. And love it, it's what makes you, you! All I can say is that I am so grateful for everything that is related to where I came from, everything that is being given to me in the now, and everything that will be. Thank you all, and good night!  Luci